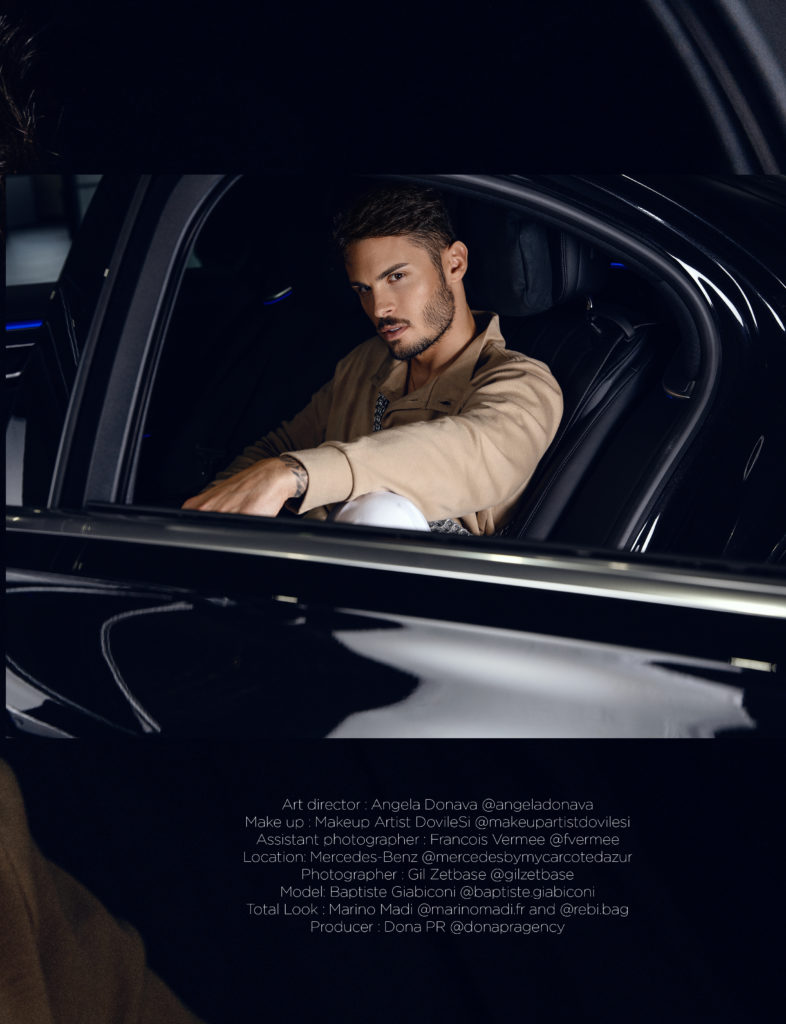 Baptiste
Giabiconi
La rencontre de deux étoiles
Mercedes-Benz
For more than 20 years, Mercedes-Benz has been driven by a passion for styling and design. The iconic company conveys its signature style through concept cars that rival haute couture. The brand's designs are truly cutting-edge and reflect a genuine commitment to exploring new frontiers. 
The standards applied to fashion and Mercedes-Benz are remarkably similar – they both share the desire to innovate, as well as their passion and elegance. The desire to shatter existing barriers and push the boundaries of the automotive industry is also present. 
Baptiste Giabiconi stands amongst one of the world's most sought-after supermodels. At the age of 18, he took his very first steps on the catwalk, he was then discovered by the artistic director of Chanel – Karl Lagerfeld. This encounter would change the course of Baptiste's destiny. 
Constantly striving for perfection and passion. A true pioneer of fashion, his lifestyle is shaped by evolving trends… As ambassador for Mercedes BYmyCAR, Baptiste Giabiconi shares the brand's values, ranging from the relentless pursuit of perfection to the need to innovate. The pairing of the two stars was a natural match. 
This match was brought to light during the unveiling of the New S-Class presented by 
Baptiste Giabiconi in the Mercedes BYmyCAR Villeneuve-Loubet showroom.
The Mercedes S-Class has two major attributes: luxury and innovation – demonstrating its efficiency and versatility, numerous state-of-the-art innovative features can be found on display:
• Latest generation MBUX: Experience digital recognition.
• Executive seating: Massaging heated and air-conditioned seating. 
• DIGITAL LIGHT: Innovative headlights offering unrivalled precision.
• Pre-safe impulse: In the event of a side impact, the vehicle rises 10 cm.
• E-ACTIVE CONTROL: Retractable door handles.
The New S-Class is elegant and refined, its appearance embodies perfection, these are the most fitting words to describe Baptiste Giabiconi, which is why Mercedes BYmyCAR 
has associated the two at this exceptional launch on Saturday 5 June on its Instagram page: 
@mercedesbymycarcotedazur
Sign up to test drive the New S-Class at Mercedes BYmyCAR :
Mercedes BYmyCAR Cannes : 04 93 69 05 05 
Mercedes BYmyCAR Villeneuve-Loubet : 04 92 02 67 00 
Mercedes BYmyCAR Nice : 04 93 97 70 70
www.bymycar.fr
Art director : Angela Donava @angeladonava
Make up : Makeup Artist DovileSi @makeupartistdovilesi
Assistant photographer : Francois Vermee @fvermee
Location: Mercedes-Benz @mercedesbymycarcotedazur
Photographer : Gil Zetbase @gilzetbase
Model: Baptiste Giabiconi @baptiste.giabiconi
Total Look : Marino Madi @marinomadi.fr and @rebi.bag
Producer : Dona PR @donapragency