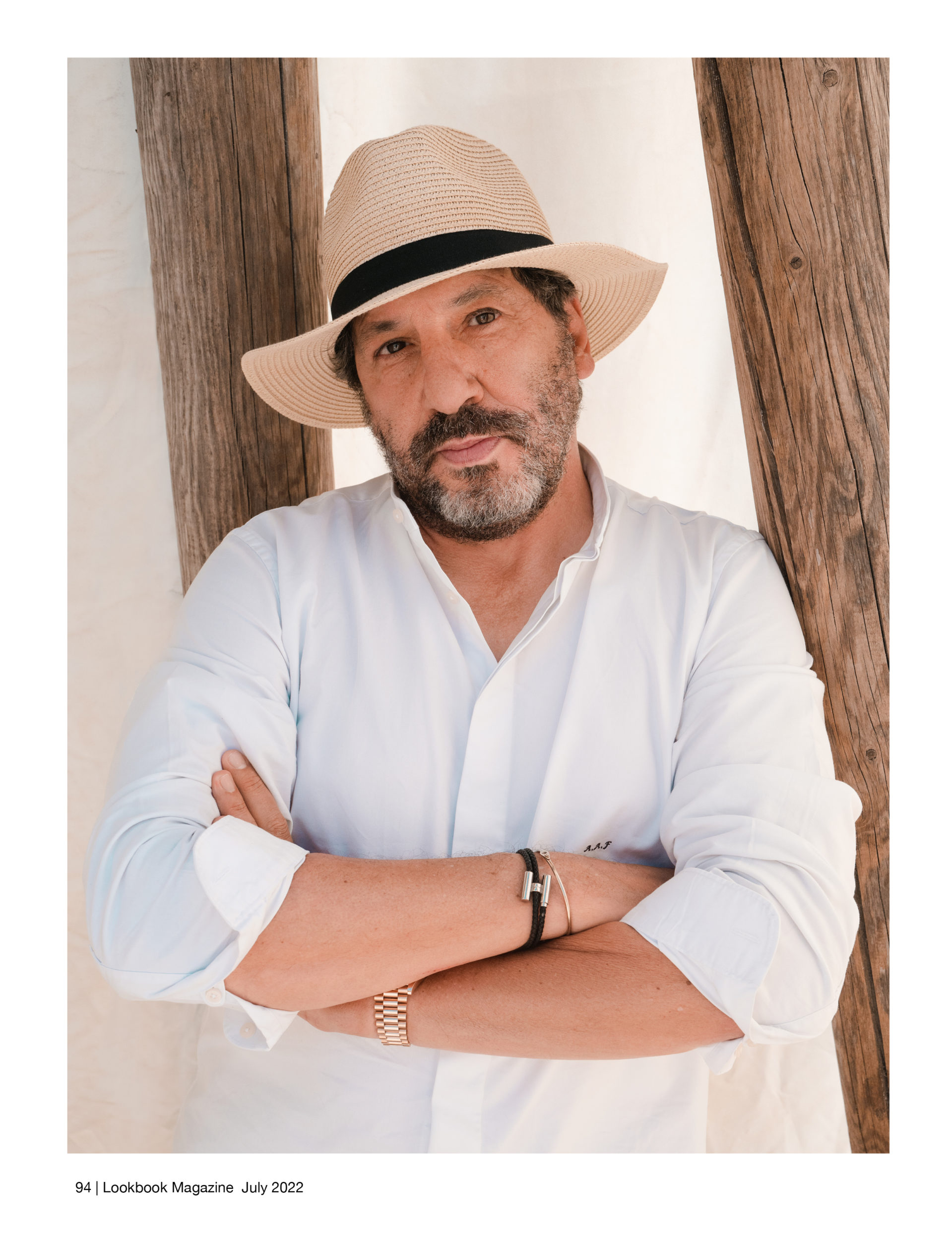 Belgian Party by Foued Allik with Nikki Beach Saint-Tropez
Lookbook: Allik, this year is the 20th anniversary of «La fête des Belges» at Nikki Beach St Tropez. Can you tell us how it all started?
Allik: Every time I tell this story, people ask me if it's true because it is so extraordinary. In 2002, I was in Saint-Tropez with some friends. We were enjoying the sun, the cocktails, the sunbathing, … let's just say we were having a good time. That year, Nikki Beach decided to try its luck in Saint-Tropez after having met with great success in Miami. At the same time, there was also a party where the Belgians met. At a dinner, some of my friends who were not used to popular parties asked me if I could organize an event for the Belgian party. I thought «why not». So I called Eric Omores, the owner of Nikki Beach. He was very enthusiastic and immediately accepted my proposal. When he asked me how many people were expected, I said 20 to 30. The first year, the Belgian Party gathered 300 people. Today, it is the biggest private Belgian Party in Saint-Tropez and the surrounding area.
Lookbook: Who will host the party this year?
Allik: Ooh… We're expecting some great people. There will be famous Martin Solveig and DJ.Jack.e. Alongside, there will be saxophonists, dancers, singers, etc. The party will start at 1pm and I can assure you that it will last all night long.
Lookbook: What is Saint Tropez, according to you?
Allik: I am from Marseille, moved in Belgium for 23 years, and in love with Saint Tropez since I was young. When I was younger, every weekend I would come with friends or family to Saint Tropez. At that time, it was a bit more quiet, a bit more friendly. Still today, Saint Tropez remains my favorite village because it has remained authentic. So yes, it's surprising when I say it like that. But Saint Tropez is not only about yachts, champagne parties and bling-bling. All you have to do is stray slightly from the tourist circuit to discover a more human, warmer and more traditional facet. For me, this is the face of Saint-Tropez that has kept me hooked for 23 years.
Lookbook: You are also a talent manager. Can you tell us a little more about it?
Allik: Yes, I am. I mainly work in luxury events and show organization. I worked for 15 years at Elite Model Look International. By the way, I was the one who created the competition for Elite Model Look International. I worked too for Metropolitan Models agency before settling in West Africa where I represent DJs like Black Coffee and famous comedians. I work in Courchevel, Marrakech, Mikonos, and other big cities where I organize luxurious private events.
Lookbook: Who is your favorite artist?
Allik: As far as DJ's go, Bob Sinclar always transports me. I love his music and most of all, I appreciate the fact that he has remained connected to people. Of course, he is not the only one I like. There is also David Guetta and Martin Solveig. On the African continent, I work a lot with Black Coffee. But really, my favorite is Bob Sinclar. I love his musical choices. Besides, heorganized what I think is the biggest Belgian Party at Nikki Beach. That day, he made a set just exceptional, really.
Lookbook: Where is your favorite destination?
Allik: I travel a lot. When I was at Elite, I had the chance to discover many regions. However, I think my favorite destination is still Saint-Tropez, because I love this village. Not only do I love the place, but I have some of my fondest memories there. As for the big cities… I'll be a Parisian forever. And then, I would say London, and then New-York. And for calm and peace, I would say Santorini.
Lookbook: Do you have any projects coming up?
Allik: I still have ongoing projects, always. For the past four years, I've been working with Bernard Hennet, the former owner of the Elite agency. We are currently creating a platform, My Mother Agency instagram.com/mymotheragency, or MMA for short. Basically, it's a place to gather actors, singers, musicians, etc. In this project, I am in charge of the whole African continent. Yes… It's a lot of work but I love it. In parallel, every year I organize an event in Courchevel and another one in Saint-Tropez. I also spend a lot of time in Marrakech although the COVID-19 has made things more complicated.
instagram.com/foued_allik_officiel