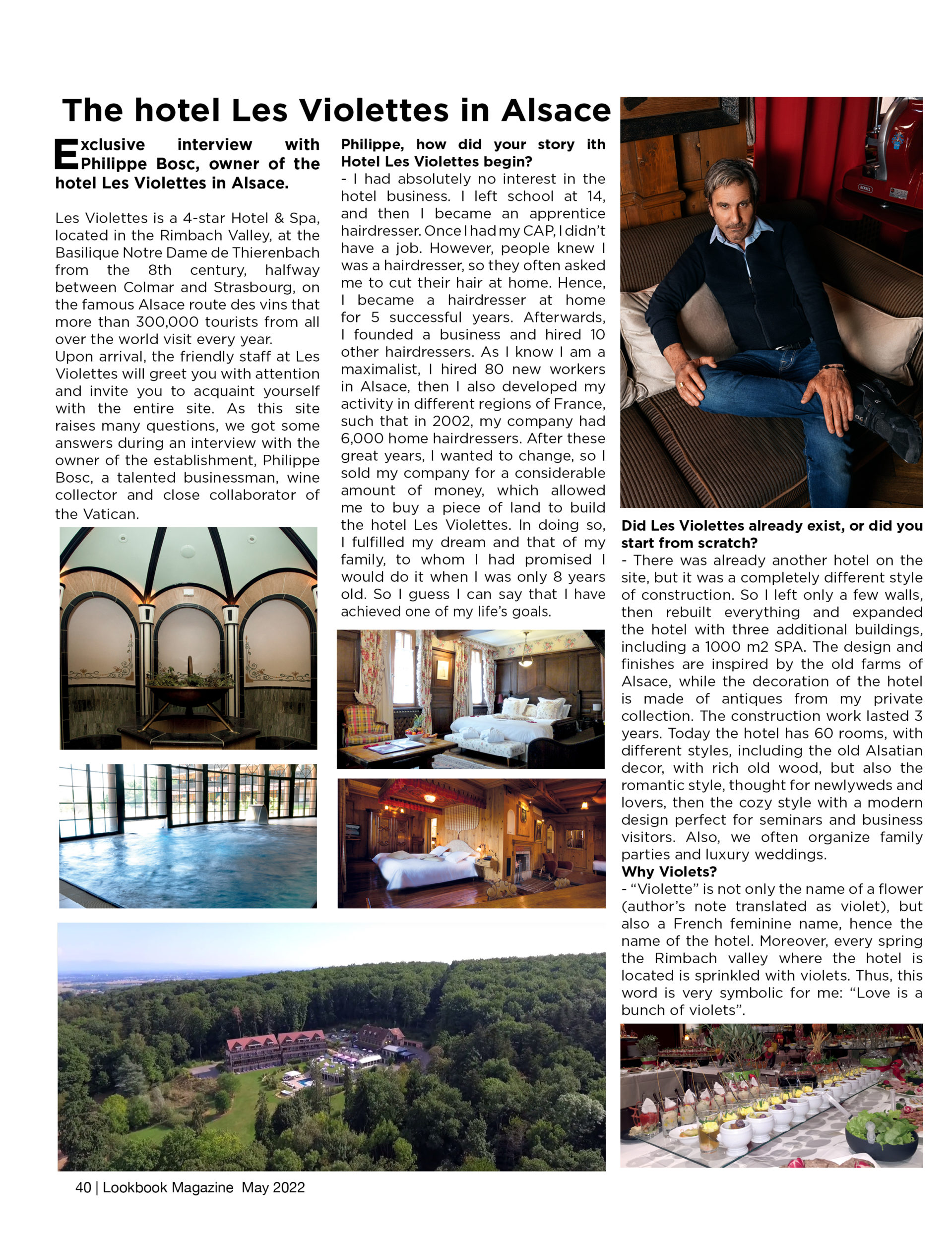 Exclusive interview with Philippe Bosc, owner of the hotel Les Violettes in Alsace.
Les Violettes is a 4-star Hotel & Spa, located in the Rimbach Valley, at the Basilique Notre Dame de Thierenbach from the 8th century, halfway between Colmar and Strasbourg, on the famous Alsace route des vins that more than 300,000 tourists from all over the world visit every year.
Upon arrival, the friendly staff at Les Violettes will greet you with attention and invite you to acquaint yourself with the entire site. As this site raises many questions, we got some answers during an interview with the owner of the establishment, Philippe Bosc, a talented businessman, wine collector and close collaborator of the Vatican.
Philippe, how did your story ith Hotel Les Violettes begin?
– I had absolutely no interest in the hotel business. I left school at 14, and then I became an apprentice hairdresser. Once I had my CAP, I didn't have a job. However, people knew I was a hairdresser, so they often asked me to cut their hair at home. Hence, I became a hairdresser at home for 5 successful years. Afterwards, I founded a business and hired 10 other hairdressers. As I know I am a maximalist, I hired 80 new workers in Alsace, then I also developed my activity in different regions of France, such that in 2002, my company had 6,000 home hairdressers. After these great years, I wanted to change, so I sold my company for a considerable amount of money, which allowed me to buy a piece of land to build the hotel Les Violettes. In doing so, I fulfilled my dream and that of my family, to whom I had promised I would do it when I was only 8 years old. So I guess I can say that I have achieved one of my life's goals.
Did Les Violettes already exist, or did you start from scratch?
– There was already another hotel on the site, but it was a completely different style of construction. So I left only a few walls, then rebuilt everything and expanded the hotel with three additional buildings, including a 1000 m2 SPA. The design and finishes are inspired by the old farms of Alsace, while the decoration of the hotel is made of antiques from my private collection. The construction work lasted 3 years. Today the hotel has 60 rooms, with different styles, including the old Alsatian decor, with rich old wood, but also the romantic style, thought for newlyweds and lovers, then the cozy style with a modern design perfect for seminars and business visitors. Also, we often organize family parties and luxury weddings.
Why Violets?
– "Violette" is not only the name of a flower (author's note translated as violet), but also a French feminine name, hence the name of the hotel. Moreover, every spring the Rimbach valley where the hotel is located is sprinkled with violets. Thus, this word is very symbolic for me: "Love is a bunch of violets".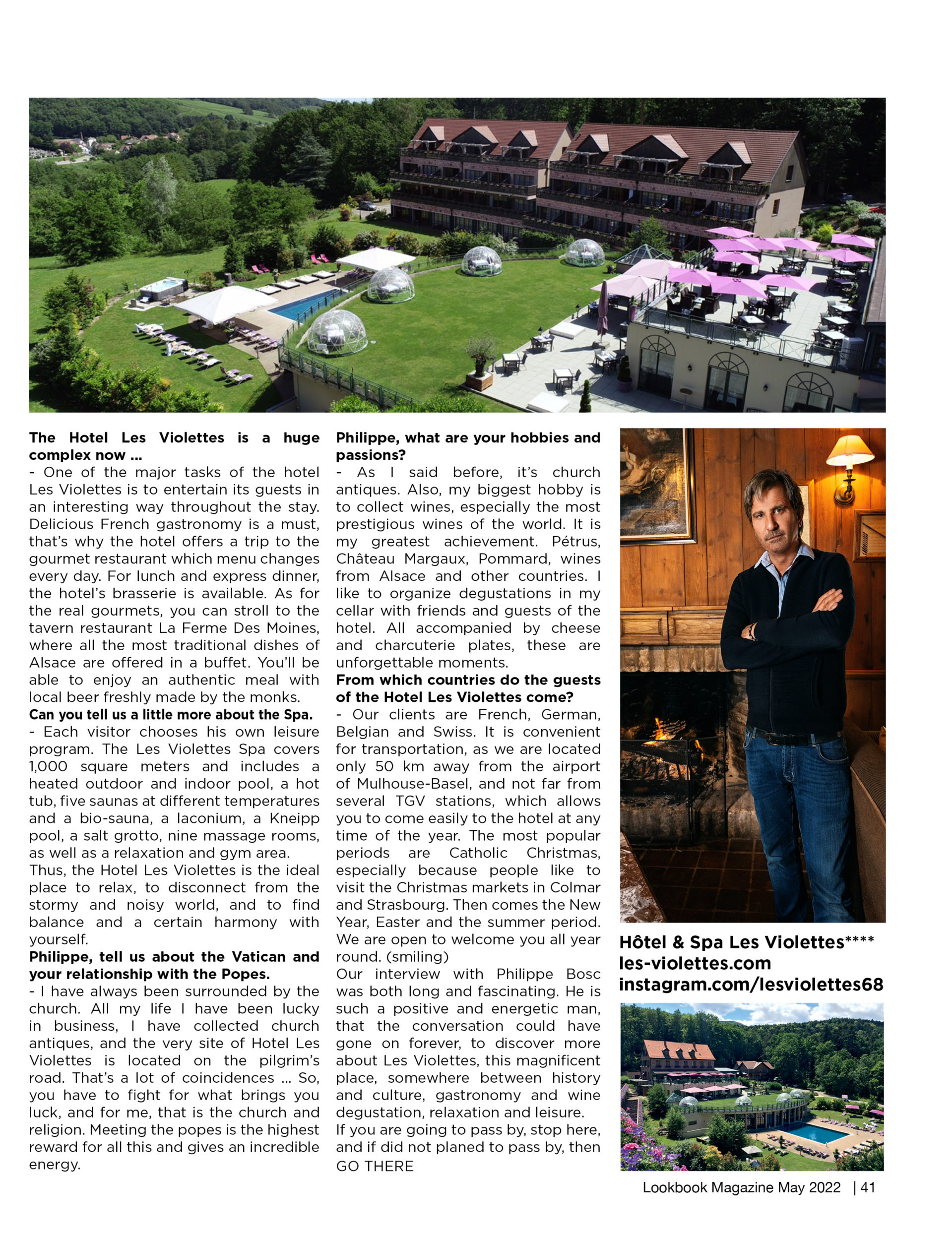 Philippe, what are your hobbies and passions?
– As I said before, it's church antiques. Also, my biggest hobby is to collect wines, especially the most prestigious wines of the world. It is my greatest achievement. Pétrus, Château Margaux, Pommard, wines from Alsace and other countries. I like to organize degustations in my cellar with friends and guests of the hotel. All accompanied by cheese and charcuterie plates, these are unforgettable moments.
From which countries do the guests of the Hotel Les Violettes come?
– Our clients are French, German, Belgian and Swiss. It is convenient for transportation, as we are located only 50 km away from the airport of Mulhouse-Basel, and not far from several TGV stations, which allows you to come easily to the hotel at any time of the year. The most popular periods are Catholic Christmas, especially because people like to visit the Christmas markets in Colmar and Strasbourg. Then comes the New Year, Easter and the summer period. We are open to welcome you all year round. (smiling)
Our interview with Philippe Bosc was both long and fascinating. He is such a positive and energetic man, that the conversation could have gone on forever, to discover more about Les Violettes, this magnificent place, somewhere between history and culture, gastronomy and wine degustation, relaxation and leisure.
If you are going to pass by, stop here, and if did not planed to pass by, then GO THERE
Hôtel & Spa Les Violettes****
les-violettes.com
instagram.com/lesviolettes68