BRIDAL COUTURE COLLECTION 2022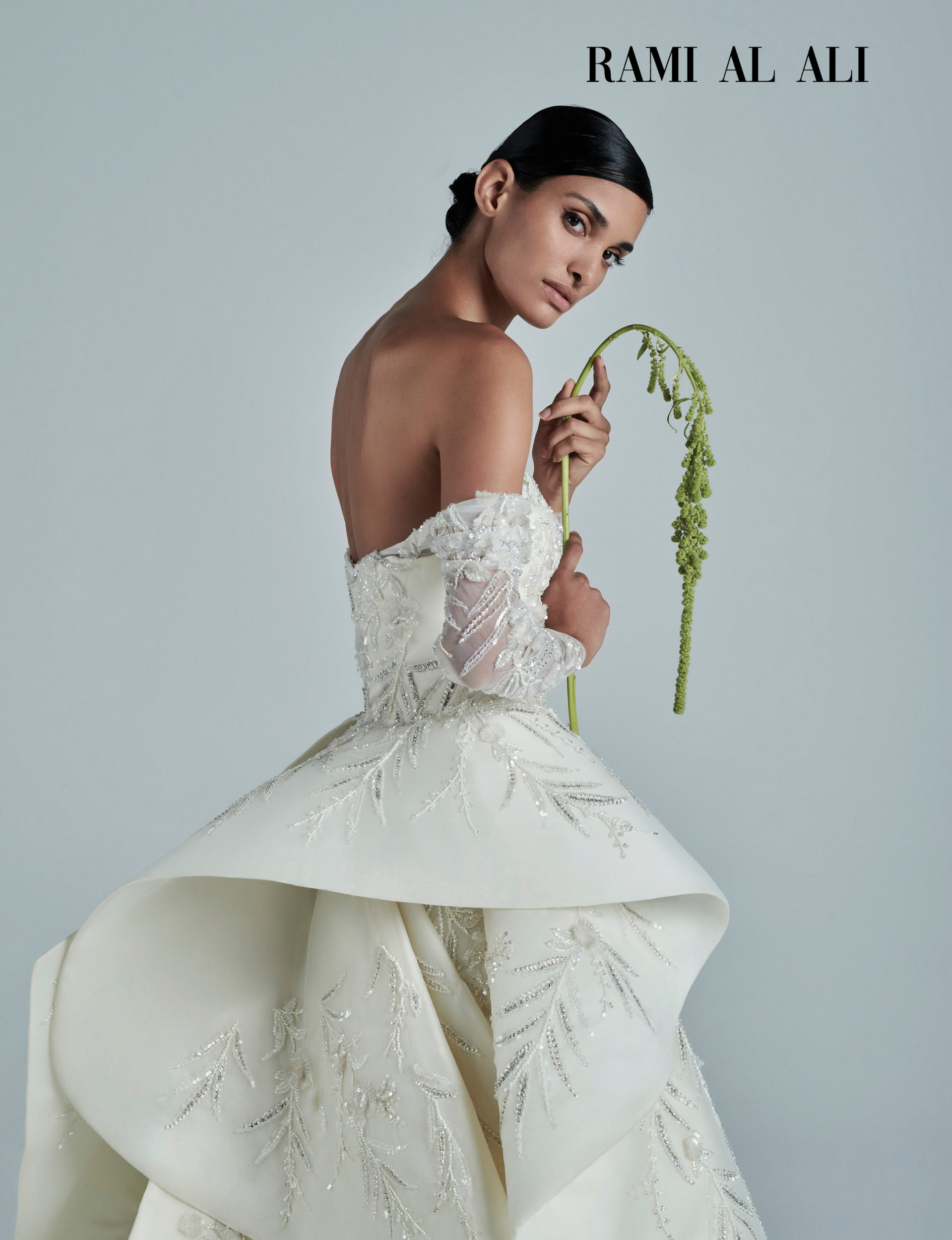 Composing a poetic love letter through the art of his designs, Rami Al Ali unveils his latest bridal couture collection, embodying an exquisite vision of beauty and elegance. A romantic display of pure creativity and innovation, the seven-piece collection serves as the perfect visual representation of the true artistry and imagination of the renowned designer.
Inspired to reinvent and modernise romance, Al Ali relishes the opportunity to immerse himself within his craft and indulge in the process of shaping designs into their final, striking form.
Perfectly harmonising the juxtaposition of old-school glamour and modern-day sophistication,
the graceful collection effortlessly wavers between the two contrasts resulting in a br eathtaking
optical display of beauty.
An underlining whimsical and dream-like aura is felt throughout the collection with its delicate yet beautifully structured shapes and unmatched detailing. Traditional, princess-style gowns and voluminous full skirts are met with structured bodices, effortlessly speaking to the theatrical bride. Elaborate architectural detailing is beautifully distinguished against sleek and sensual silhouettes, adding a majestic touch of modern femininity synonymous with the fashion house.
Al Ali's unrivalled knowledge of fabrics is showcased through the use of sumptuous silks, satins, tulle, and exquisite lace. Signature embroideries are met with new season techniques echoing the house's history of craftsmanship and offering each look with the same level of focus to detailed handwork to ensure a luxurious feel. Prominent abstract 3D beadwork continues to play an integral role in the brand's visual identity, and the modernisation of such classical artistries allows for a simplistic and intricate result. Ostrich feathers are gracefully placed among dramatic sleeves, evoking gentle movement while perfectly fueling a fantasy for the
contemporary brides of today.
A line-up of subtle ivory tones is adorned with elaborate beading, floral applique, and scores of shimmering crystals, each perfectly working together in harmony to present a beautiful display of a finesse bridal collection. The fashion house has once again skilfully explored boundaries and created a collection with refinement, classicism, and elegance, with a modernday edge, allowing the Rami Al Ali woman to fully express herself and be the bride that she has always dreamed of.