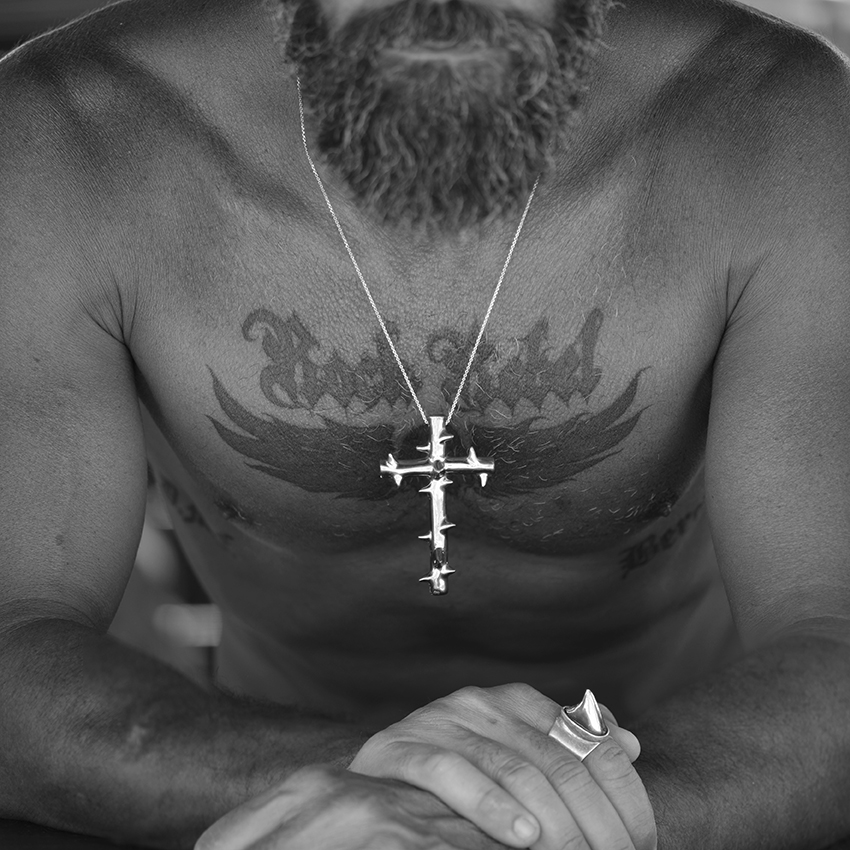 Fashion Iconic style
Patrick Moulin
The great strength of the self-taught designer Patrick Moulin, is his confident vision following the influences that speak to him. He is free in his design, free to follow his instinct, to give free rein to his curiosity, free to follow his passions. A lot of his aesthetic derives from his family origins with two grandmothers who left a deep mark of his style: one Kabyle, with her tattoos, her jewelry, and dresses embroidered with sequins, the other Italian, impeccably elegant, always in the cutting edge of fashion…. and two traveling grandfathers, both poets, and entrepreneurs …
Very early on, Patrick Moulin created a world of his own, but in his mind, he traveled … elsewhere … far! He is fascinated, obsessed even, by the world of couture: its mysteries, its magic, its magic, its creativity. At the age of 11, he already imagined sumptuous dresses for his sister's dolls, collected fashion magazines with passion, sorted them, leafed through them until they were used, cutting them up, tirelessly tracking down the most glamorous, those of Guy Bourdin, Deborah Turbeville, Helmut Newton and fashion designers Yves Saint Laurent and Coco Chanel.
His dream? To become a creator himself.
The first collection of jewelry by Patrick Moulin was finally born in 2007: it is sober and timeless, refined and organic. He immediately made the risky bet of exploiting an unusual material, porcelain, with the fierce desire to rehabilitate it, giving it new life, bringing it modernity, pushing and working the material in original forms while perpetuating its history. They are majestic pieces, very couture, strong, conceived as works of art, marrying glazed porcelain with platinum and gold. Collections which pay homage to romanticism, to nature, to the great ladies of yesterday whom he considers to be his muses: Diane de Poitiers, Marie-Antoinette, and Jeanne d'Arc… ..to movie stars: Bette Davis, Faye Dunaway, Marlene Dietrich, Joséphine Baker…
Patrick Moulin's creations are sold in boutiques such as Joyce in Hong Kong, Restir in Tokio, Luisa Via Roma in Florence and Le Bon Marché in Paris. The biggest fashion magazines include his creations in numerous issues.
His dream now? Extend this universe to other areas and ensure that its brand is transformed into a real multidisciplinary hive, mixing jewelry, contemporary jewelry, design, tableware, like the big luxury houses of the XX century.