The Egyptian greatness


Hany El Behairy is undoubtedly one of the greates Haute Couture designers in the Middle East. Since the age of 15, he has never ceased to sublimate the oriental woman, to give her beauty and magic by composing his outfits as one would compose a symphony.
He distinguishes himself by the glamour of his sheath dresses and likes to tell in his new collection, the history of Egypt and its splendors.
All in meticulousness and delicacy, he puts his creativity at the service of tradition to make his country shine. Highly anticipated as every year in Paris, Hany El Behairy has distinguished himself a year ago at the Carrousel du Louvre, where he closed his show with a breathtaking wedding dress worth 15 million dollars.
Hany El Behairy is an icon of the Oriental Fashion Show of which he has been a part for about fifteen years.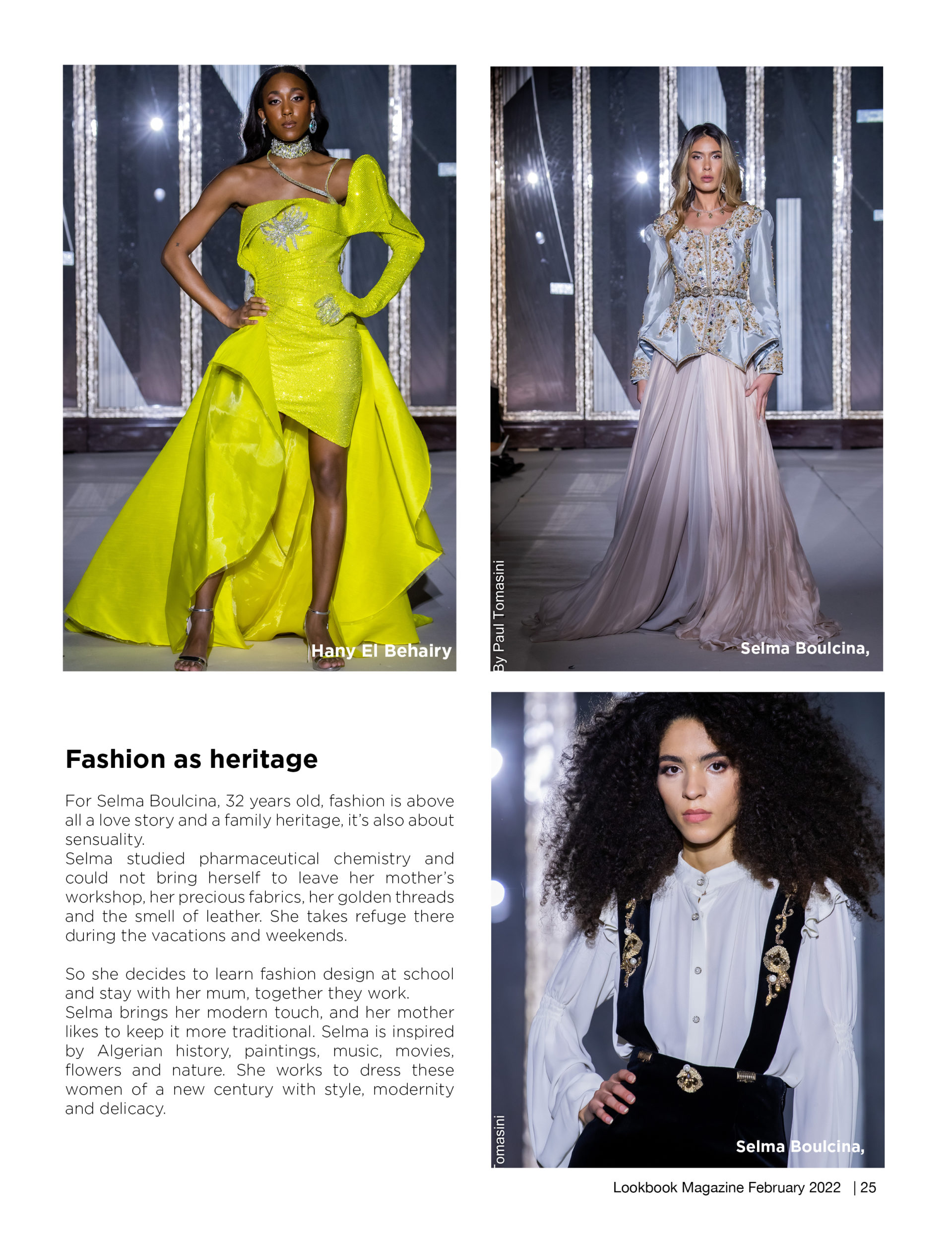 Fashion as heritage
For Selma Boulcina, 32 years old, fashion is above all a love story and a family heritage, it's also about sensuality.
Selma studied pharmaceutical chemistry and could not bring herself to leave her mother's workshop, her precious fabrics, her golden threads and the smell of leather. She takes refuge there during the vacations and weekends.
So she decides to learn fashion design at school and stay with her mum, together they work.
Selma brings her modern touch, and her mother likes to keep it more traditional. Selma is inspired by Algerian history, paintings, music, movies, flowers and nature. She works to dress these women of a new century with style, modernity and delicacy.
Elegance of the East


Jitka Klett fashion designer from the Czech Republic / Prague, the holder of the title Europe Oscar della Moda 2021.
After 27 years in the fashion industry the fashion designer Jitka Klett represents two fashion lines – Jitka Klett Couture and JK Klett (ready to wear line).
From Slovakia to Paris
Renata Kliská founded the La Rena brand only in 2012. In just a very short time, her collections of luxurious fur coats and clothes became the stars of Slovak catwalks and gained admirers in France, Italy, Austria and in the United States.
Traditional Uzbek fashion
The national brand LIANALI was one of the first to professionally produce gold thread embroidery in Uzbekistan. The company has been in existence since 2012, founded by Mariyam Karimova, and embodies the Uzbek national culture through its collections.
The presentation is a tribute to 90s Hong Kong cinema, the gangster-esque movie follows a femme fatale lady crime boss into an old-school arcade, as she flees tattooed and chained thugs. The game of cat-and-mouse is as adrenaline-inducing as it is psychologically captivating and features the collection's key pieces as the object of everyone's desire.
The brand offers traditional national products for celebrations and weddings, but also everyday clothes. LIANALI offers any style of high quality embroidery on finished products, but also on clothes for fashionistas who opt for modernized ethnic clothes. The brand also offers jackets, suits and frock coats in a more European spirit.
Photo : Paul Tomasini