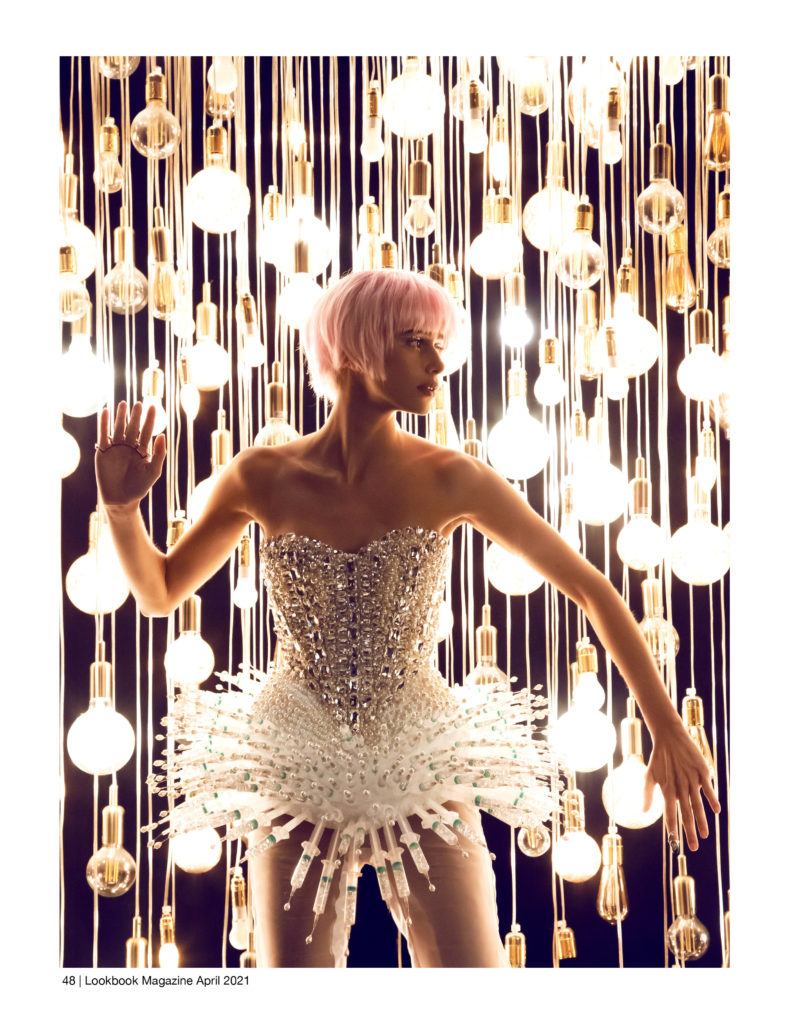 On aura tout vu

Photos -Virginie Dubois
Escarpins Shoes – on aura tout vu 
Lunettes Masque Eyewear Mask – on aura tout vu 
Maquillage Make up – MAC Cosmétique, Thibaut Marieke
Coiffure Hair – Patrice Piau 
 Vidéo Video – Gilles Maillard 
Décor Stage  – Alain Lagarde
on aura tout vu remercie on aura tout vu would like to thank Paradis latin Kamel Ouali and les partenaires the partners.
Reborn
The world of tomorrow or the new normal.
Injection of light and lightness.
A light – A message – A know-how
The On Aura Tout Vu couture house presents a single digital model for this spring summer 2021 season.
 Corseted bustier in silk satin and cristals, pearls enhanced with 100 syringes filled with crystal vaccine and pearls, which ends in a needle whose tip is adorned with a drop-shaped pearl. 
The vaccine dress … 
Far from the conventional imagery, Livia Stoianova and Yassen Samouilov, loyal to the DNA of On Aura Tout Vu, refocused their creation, always concerned with societal issues in constant search of an extraordinary imagination. 
A breath of fresh air that helps inject a little light into our life. 
Adapt to extraordinary circumstances. While the fight against the COVID-19 pandemic is not yet won, with a vaccine in sight, there is at least one light at the end of the tunnel – as well as hope!
 It is from this light that the couture inspiration of On Aura Tout Vu was born for a creation with a strong message of hope for the Spring Summer 2021 season.