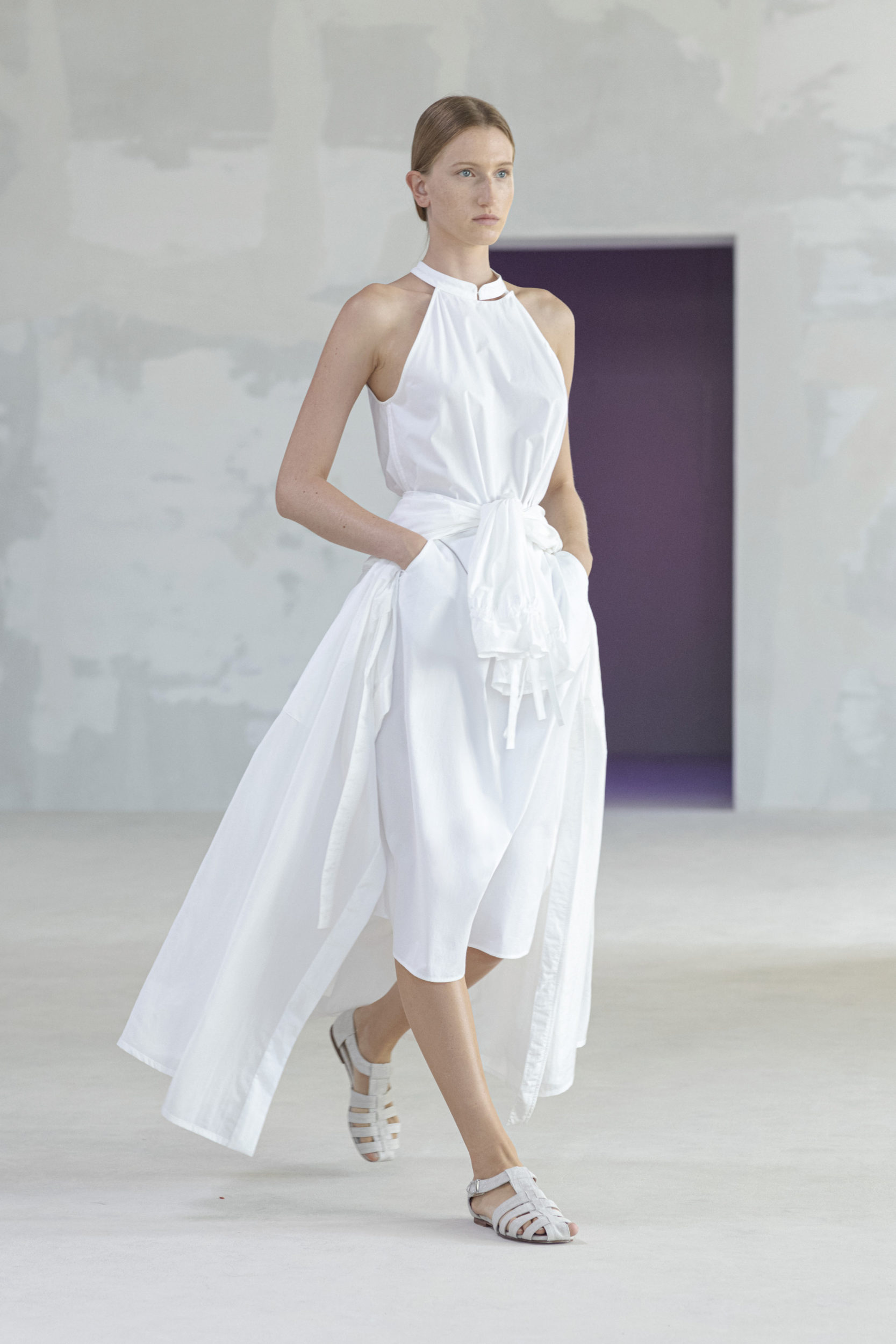 Do my eyes deceive me, you wonder. You slowly rub your eyes hoping that a little lubrication will bring more clarity. You look again with fresh eyes, yet the light rays recommence the subtle dance, the colors shimmer and readjust, the shapes distort and the textures vibrate.
Suddenly you realize, there's no deceiving happening here, this is a new reality. A reality in which meaning is not fixed, but a continuous performance between perspectives and perceptions.
NEHERA SS22 is inspired by the contemporary artists Libenský and Brychtová and their masterpiece "The Inner Light". The Czechoslovak visionary couple revolutionized glass sculpting by exploring the materials' contrasting characteristics: fragility and massiveness, color nuances and transparency, light sensitivity, and reflective abilities.
Following the Libenský and Brychtová method, the NEHERA SS22 shines with contrasting features that evolved into a softer, yet bolder wardrobe with a focus on cut. The collection plays with color depth, density and explores new and more diverse fabrics and forms to create styles that capture strong creative statements in timeless expressions.
The key of the collection is still in NEHERA's signature tailoring that brings this time new and unique silhouette in fluid cuts and suits. Continuing the brand's love for volume, SS22 brings generous straight-cut trousers easily combinable with an shaped no-visible-pocket blazer or withthe vest jacket and deconstructed sleeveless jacket. The same jackets with bow leg taperedtrousers create a less formal look. The novelties are the slim boot cut pants for a more feminine and up-to-date silhouette.
Tops are more contemporary thanks to a wider range of manufacturing. Shirts have diverse cuts to match different stylings: sleeveless A-shaped, wide straight long sleeve shirt, boxy volumes 3-quarter kimono sleeve shirt. Dresses include a to-the-body silhouette as well as a generous volume which is a hallmark of NEHERA
NEHERA SS22 collection captures that subtle inner light charge that makes the NEHERA Woman
shine inwardly and outwardly..
NEHERA SS22 mAIN COLLECTION