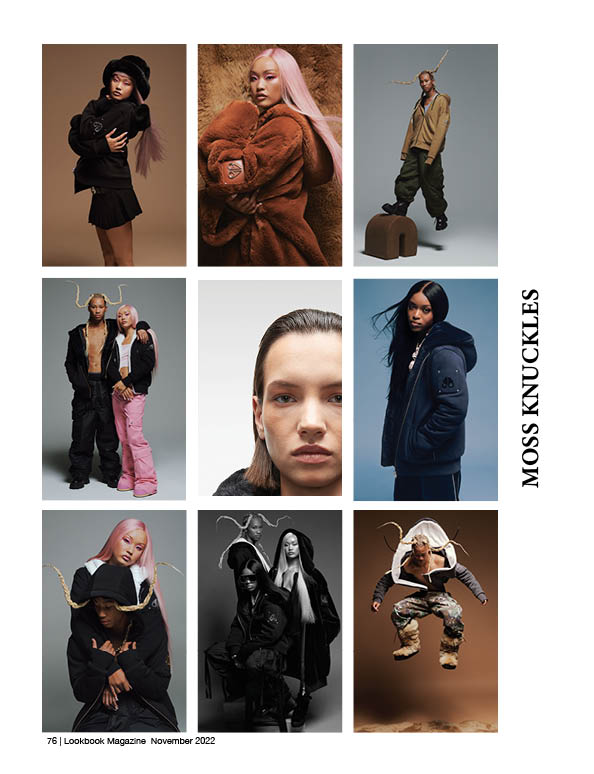 brand Moose Knuckles is redefining "tough exterior" to be cozier than ever imaginable, thanks to its new expanded range of its bestselling 'Bunny' hoodie and new sherpa jackets for its FW22 collection.
The highly anticipated new arrivals from the collection consist of 14 Bunny hoodies for adults and kids as well as nine sherpa jackets in an array of fresh silhouettes and colors. One of the best hoodies in the world, the 'Bunny' combines the ease of a classic hoodie with the label's signature silky-soft and insulating faux fur. And although the campaign features a cameo by a real bunny, the brand cheekily reminds customers that the collection is completely free of fur in its campaign video.
The campaign, shot by the acclaimed photographer Luis Alberto Rodriguez and styled by guest Artistic Director Carlos Nazario of i-D Magazine, depicts an early '90s-inspired fantasy of what cozy means for creatives on the streets. As part of the label's 'Heatmakers' initiative to spotlight rising talent in its own community, it features R&B singer Kaash Paige, skateboarder Lil Dre and Carine Roitfeld-discovered model Jaychelle as the faces of the campaign. The collection's plush and oversized pieces allow for movement, and the result is a celebration of rule-breaking rebellion depicting its 'Bunny' hoodie as fall's must-have prote ctive layer for youth culture.
The hero piece is arguably the cozy-as-a-blanket 'State XL Bunny' in a generously oversized silhouette meant to be worn across genders. As stately as the name suggests, it can be worn over anything for an effortlessly bold look and is notably the first style to be crafted entirely of the label's sumptuous faux fur on the exterior of the garment rather than the inside. It is available in both jet black and a caramel café color featured in the campaign.
For women, the standout debut style is the luxurious 'Bergen Bunny Bomber', which is the hoodie version of the label's bestselling outerwear piece, the 'Debbie Bomber.' A transitional layer for the city woman, it features the same genuine shearling hood ruff, pom poms and J-seam detailing. For men, the 'Classic Bunny 3' is revamped with a monochrome look in dark sapphire with faux fur of the same color as well as a new wasabi hue with contrasting black faux fur. The faux fur liner on this style is fully removable as well, so it serves as an ideal layering piece for especially unpredictable forecasts in autumn months.
The campaign's playful images illustrate the concept that when one feels warm and comfortable nothing can hold one back—in true Moose Knuckles form.