If you like getting to know contemporary artists who take another look at common objects by turning them into masterpieces, then you want to discover Laurence Jenk.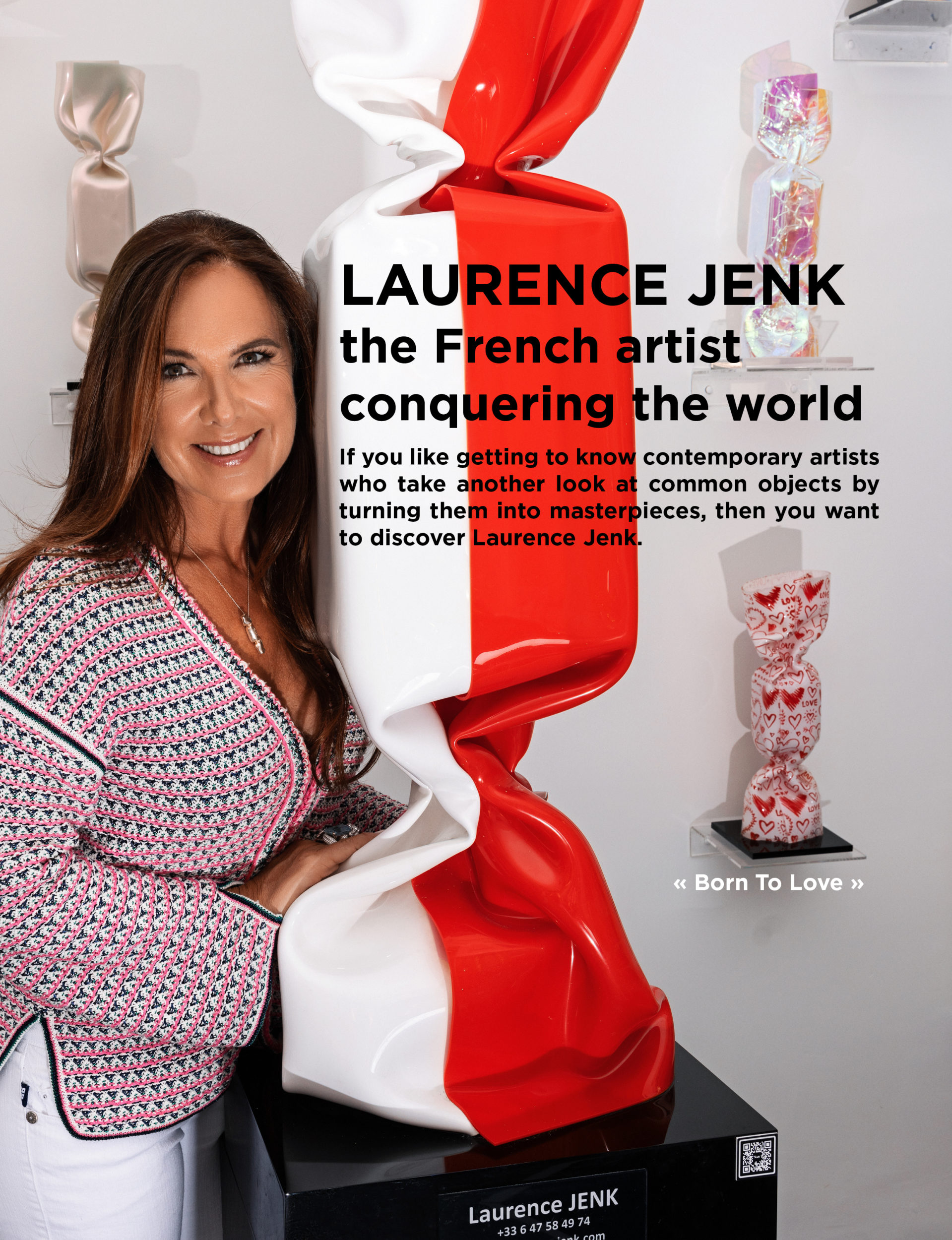 Who is this woman with her tremendous candy sculptures?
These unique sculptures are colorful and brilliant, just like Laurence Jenk, also known as JENKELL. The French woman was born on December 31, 1965. This particular date was probably a hint of her future showy masterpieces she started to create in the 1990s.
Who never ate candy as a child, or even as an adult? No one. This is the reason why Jenk's works of art are so appreciated all around the world. Not only does she represent candies, she does it with a unique wrapping twist know-how that she duplicates using materials such as plexiglas, polyester, aluminum, bronze, or even Murano glass and marble.
And the ultimate candy lover is not done with sweet treats. Indeed, not only does she master the wrapping twist technique to recreate their shape, she also uses candies as a material in itself. Again, just as candies ring a bell for all of us, the art she creates with them reminds us of our childhood, although it may depend on generations! Is there anyone who doesn't know about Pacman? Universality is exactly what the artist wants to reach.
The wrapping twist technique is her DNA. And this is much more than a pun on a word. Plexiglas is her signature material, and she also used it to create unexpected DNA sculptures that draw your attention and allow you to give free rein to your imagination.
Laurence Jenk literally burst with imagination. In 2020, still working on her signature candy plexiglas sculpture, she designed some more eccentric ones meant to be all the more unique by locking up precious items one can admire behind the transparent plexiglas. And if you happen to struggle to put a name on these creations then simply say that it consists in Jenkellising a piece of art. "To jenkellise" has become a genuine verb in the art world, which instantly reminds of the unique candy sculptures.
Laurence Jenk is not done yet with candies. Even when she goes back to painting on a flat canvas, she adds her sweet touch and creates an unexpected and colorful piece of art that doesn't go unnoticed.
Laurence Jenk, a committed artists using her twist signature to denounce burning issues
As she became more and more famous, Laurence Jenk decided to make the most of her renown to illustrate crucial issues of our times.
What do you do with the wrapping once you've eaten your candy? Well, you're supposed to throw it in the bin. Jenk used her wrapping twist technique to represent a trash can. Again, representing an ordinary object, but this time aiming at putting forward environmental issues.
This technique is not the only way for her to tackle questions regarding mankind's evolution over time. Whereas the consumer society raises essential questions, what can we say about the evolution of artificial machines that resemble us more and more?
Far from considering "art for art", Laurence Jenk uses her talent as a voice to draw our attention on the absurdity of our consumption habits.
The animal cause also finds its place in her collection. This is how an elephant ends up twisted as if it was squeezed and crushed by a human hand. A unique way to denounce poaching.
And to keep on decrying fundamental issues, Laurence Jenk also makes use of her talent to denounce domestic violences on women. The Wrapping Twist Femme Battue gifted to Le Fondation des Femmes represents a woman whose waist is wrapped, as if crushed by the hand of a man threatening her, as demonstrated by the hands covering her face to avoid blows. The sculpture was welcomed by Mrs Brigitte Macron the French first lady, and by Mrs Marlène Schiappa, Secretary of State for equality between women and men.
The emblematic candy already won many nations' hearts
France can't get enough of Laurence Jenk's art, and the same goes for ever more countries around the globe.
In 2010, the French artist decided to make a tribute to her favorite places and to introduce them in a more human-sized format to her admirers. No doubt that Johannesburg and La Belle de Moscou had never been represented in such a way before. Plexiglas definitely no longer holds any secret for Jenk.
Little by little, her twisted sculptures conquered more and more countries around the world. To display a candy bearing their flag became a goal for many states. This is how Azerbaijan and Aby Dhabi obtained monumental sculptures of 5m height. In 2019, the World Trade Center also got a candy representing the European Union. And in the streets of New York City, one can also encounter a candy with the United States, Italian and Japan flags.
On the other side of the planet, in the W Hotel in Singapore, you can also discover a luxurious Giant Golden Candy.
Some of these sculptures were part of the Candy Nations collection exhibited 10 years ago in Cannes during the G20 Summit with representations of the Australian, Canadian, Turkish, Irish and many more flags.
To top it all, even the greatest soda brand on the planet fell in love with Jenk's candy hallmark: Coca Cola. Hence the candy bearing the effigy of the giant.
Finally, let's go back to Laurence Jenk's home country, France, where her art is particularly appreciated, especially in the South. In 2016, the Relais de la Reine in Cannes displayed 4 polyester candies of 2m height. Last year, in 2021, the Principality of Monaco decided to pay homage to the Argentinian sculptor Lucio Fontana with a 2m height Twisting Candy made of no other noble material than white marble, with fold details that we had never seen before on her previous art pieces.
It was not the first time one of her pieces of art was exhibited in Monaco that year, since she also participated in the Concert d'été de la Croix-Rouge monégasque, along with her Wrapping Candy Mask which reminds us of the pandemic, still in a more glorious way. This time, the French artist took her talent a step further by creating 500 Wrapping Candy Mask mini-sculptures derived from real masks handcrafted by herself and offered to the guests of the event.
All this is quite stunning, isn't it? And Laurence Jenk hasn't finished blowing the whole world away and honoring her Chevalier de l'Ordre des Arts et des Lettres title, especially now that she has opened her own art gallery in Monaco where one can come and admire her masterpieces.
Gil Zetbase for Laurence Jenk
JENK
Laurence Jenkell
www.laurencejenk.com
me@laurencejenk.com
+33 (0)6 47 58 49 74
@ laurencejenk
New studio gallery :
29 bd Rainier III
98000 Monaco