Victor, we are currently in your cosy chalet, with this beautiful view on the St. Moritz lake where the Snow Polo is taking place at the moment.
You love photography, and you were creative director of a major advertising agency in Zurich. You are also a collector of … great… masters of photography, notably Irvin Pen, Robert Mapplethorpe, Bert Stern and many others…
So my first question will be rather straightforward: why have you created your cashmere sweater brand, "rebelheart", here in Switzerland?
Switzerland, and particularly St. Moritz, is a popular destination for high-end customers from all over the world, so it's the perfect place to create a collection of unique, high-quality sweaters.
It is no accident that the slogan of this beautiful destination is: "St. Moritz. Top of the World".
Right from the start, we wanted to match this reputation.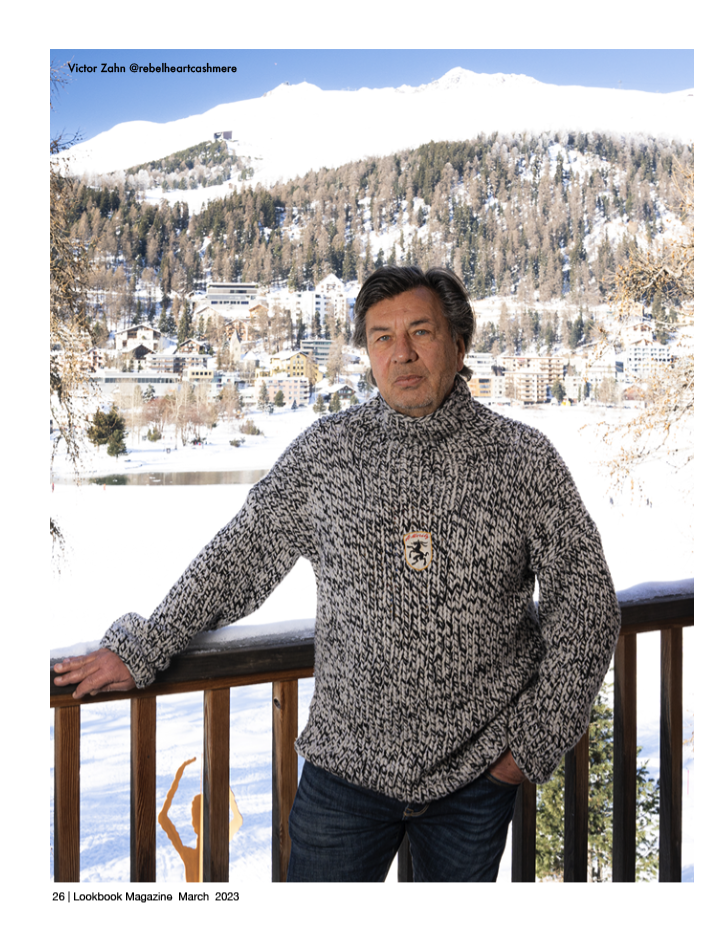 Your sweaters are of very high quality, which means high price and luxury. Where can we find your collection?
Today, it is available in St. Moritz, Gstaad, Crans-Montana, Arosa, Geneva, Saint-Tropez and very soon in Zermatt.
We have also created a limited edition for the members of the "Paradiso Mountain Club", a VIP meeting point for the most demanding people at more than 2,000 meters of altitude in St. Moritz. The "Paradiso" belongs to the famous 5-star hotel "Badrutt's Palace" in St. Moritz.
By the end of 2022, we were able to display our creations at the prestigious hotel "The Peninsula New York".
What makes rebelheart sweaters so unique and timeless?
Unique. High quality. Timeless. That's what rebelheart stands for. It is more than a matter of heart and a clear strategy. rebelheart stands for "iconic cashmere sweaters, dedicated to the top destinations of the world" It also means a lot to me that the sweaters are only available in one multi-brand store per destination. In the very best store.
Could you explain to me the meaning of the patch with the different names of the seaside cities or skiing on it. This is your trademark that can be found on the chest of each sweater.
rebelheart is known for its unique design ideas, starting with the "Vintage Patch" line. In the 40's until the 80's, wearing a sweater with a winter destination patch was very chic. I myself had a sweater with a St. Moritz patch. I loved it, and I wanted to revive this element of the past. For this line, I searched for VIP winter and summer destination patches from around the world. Generally, these are one-of-a-kind finds that are between 40 and 70 years old. After that, each sweater is perfected, and therefore unique.