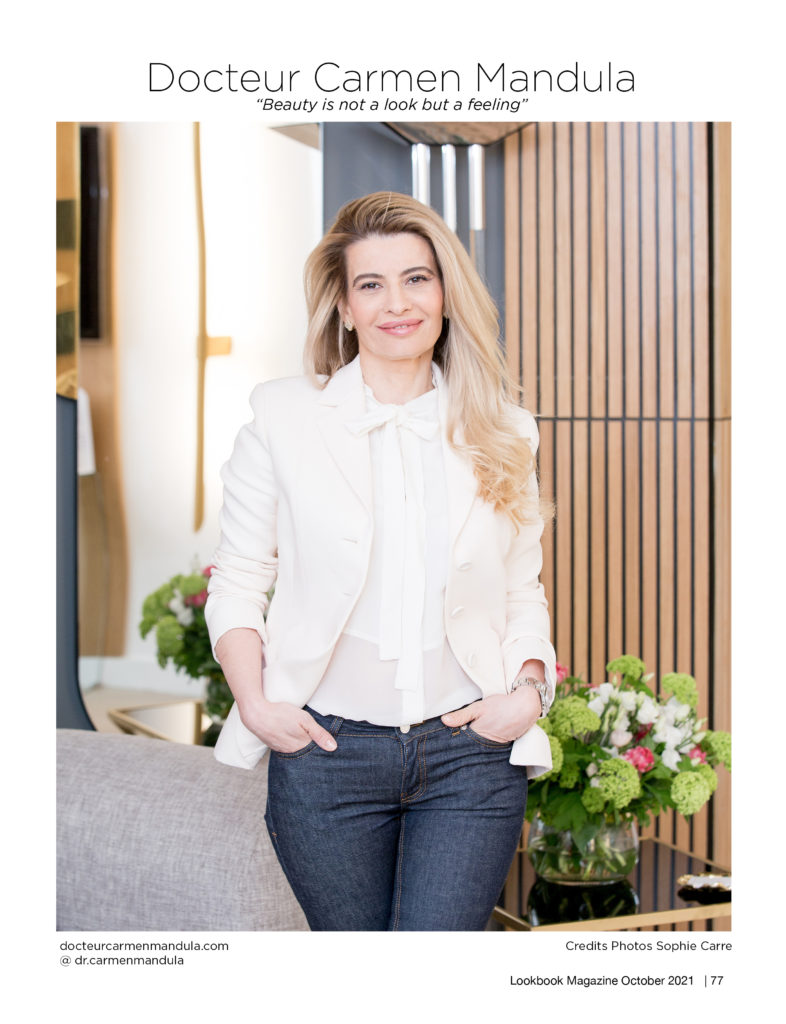 Docteur Carmen Mandula
"Beauty is not a look but a feeling"
Carmen, you  have  many   professional   accomplishments: graduation with a doctor's degree, completion of the International School of Aesthetic Medicine. Why did you choose this profession?
I always wanted to be a doctor. Since childhood, I dreamed of contributing to the well-being of others, so it is a profession that I chose out of passion and conviction.
What is the beauty of a woman to you?
To feel beautiful is first of all to feel good. There is not one, but many criteria for beauty. So beauty of a woman is first of all a feeling, a sensation that professionals like me try to make as positive as possible. Sometimes it takes very little to feel beautiful.
Currently there are many popular treatment options in the aesthetic market. What is your opinion? What are the practices that are more efficient and reliable?
The aesthetic market has developed a lot in the recent years. It has reached more people and offers more advanced technologies. We also have gained a better perspective on certain processes, which enables us to offer more customized solutions. However, some countries have switched to the industrialization of beauty, forgetting even the very concept of aestheticism. Fortunately, some countries, like France, have a more classic and balanced vision of this practice, in fact meeting "more chic" and more intellectual criteria, compared to countries like Brazil or Russia whose approach is more "radical". Finally, I personally believe that it is extremely important for the practitioner to provide a medical diagnosis during a cosmetic consultation.
You have two centers in France: in Paris and in Cannes. Who are your customers: men, women, what is their age?
First of all, I treat and support patients, not clients. My primary goal is to meet their one-off or recurring needs. In dermatology, problems concern everyone. In cosmetics, of course, I have increasingly young women who come to solve a problem or to gain comfort. In Cannes, the patient base is more traditional, starting from the age of 40. In Paris, on the other hand, I see patients who are in their post-adolescence or older, and I work with all kinds of patients. There is also a growing number of male patients. Men have actually understood that aesthetics is less about appearance and more about well-being.
What are the most important factors to keep your beauty and youth?
Healthy lifestyle! Eat properly, work out, limit the consumption of excess food and drink, sleep, and protect yourself from the sun. And also be happy.
What projects are you currently working on?
To meet an increasingly growing demand, I have just equipped my offices with extremely sophisticated machines allowing me to obtain very precise results. These include the Hydrafacial machine, which not only performs deep cleansing of the skin, but also restores radiance and firmness through deep hydration. I also have a growing demand from traveling customers who arrive by yacht to the French Riviera.
What is your favorite expression on beauty?
Beauty is not a look but a feeling.