Claudia Signature Monte Carlo
by Claudia Cherki 
Tell us how your brand was born, and what inspired you to create it?
I've been passionate about fashion since I was a kid and I've always dreamed of creating my own brand with my own clothes. But I had to wait a little while to make it happen. I started out helping my parents in the wine business. Indeed, I have a background in wine making as my family has been in the wine business for 50 years. Then I worked as a wine importer and met the owner of the vineyards in Champagne, which allowed me to create my own Champagne brand. That was already 4 years ago. At the same time I completed my MBA in Monaco, and through market research, I have been able to return to my love of fashion and create my own brand of tailor-made and personalized clothes. I attended the sewing course at Aline Buffet in Cannes, and then I registered my clothing brand Personal Made for you.
– Can you tell us more about the Personal Made for you concept…
I named my brand Personal Made for you, because everything tailor-made and personalized is very trendy at the moment, such as the concept of "personal shopper" for instance. All this happened after I created my brand, so I was on the right track. As early as 2012, I did a lot of research about eco-responsibility, and the sustainable aspect of a brand. I found out about the launch of a concept related to recycling, which was just entering the market. Recycling wastes, offering them a second life to reduce pollution, offering better luxury materials with extra quality, all this was only just beginning. In 2014, I became an Ambassador for this project to communicate this concept, and I created my own collection using these eco-friendly materials. Since then, I've been on the same wavelength as this decision and I'm delighted that we're moving in this direction for the planet. All of us need to contribute to reducing consumption, each at our own level. To me, it's fashion. This type of fabric does not allow me to design fancy evening gowns, but I can create professional clothing and sportswear.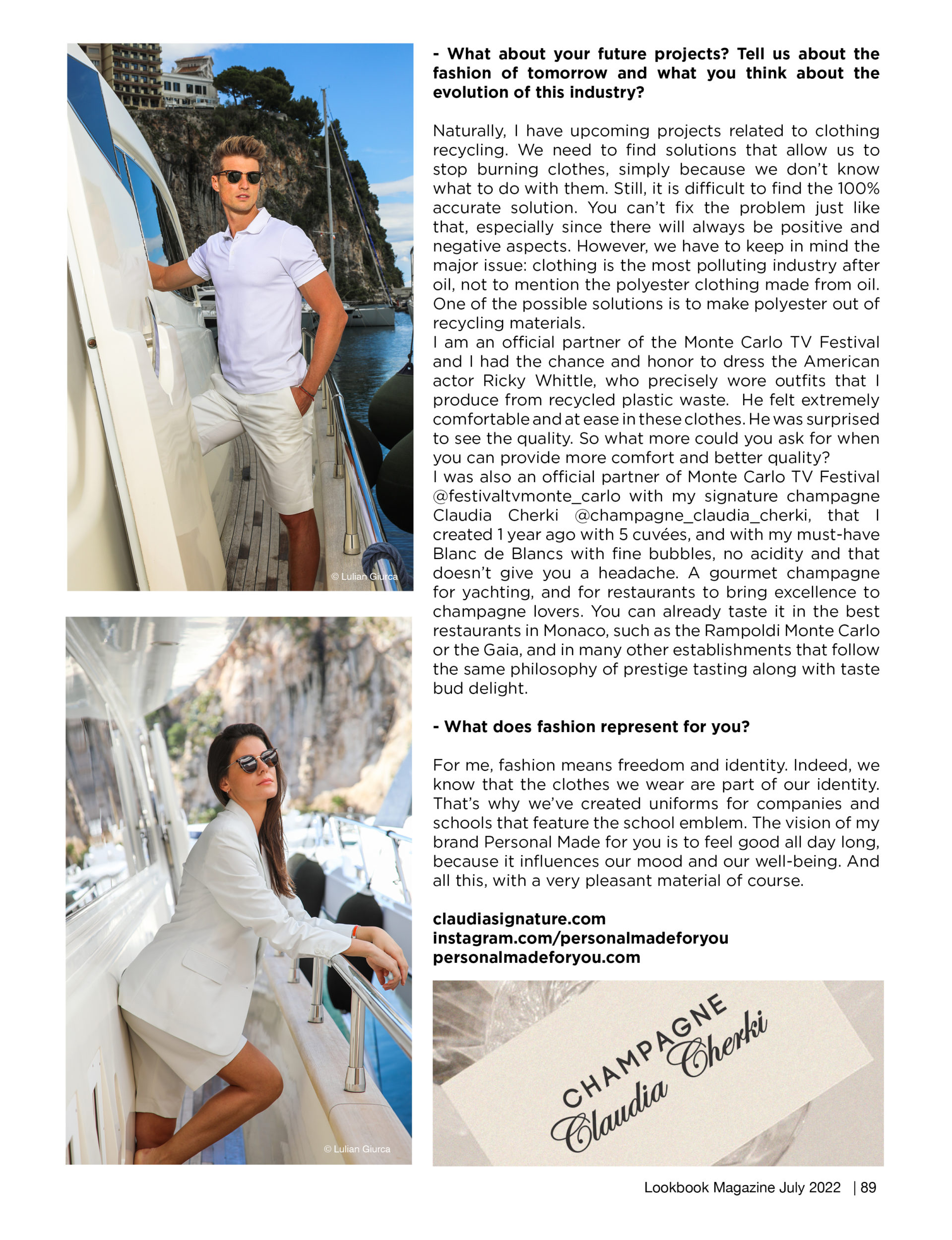 – What about your future projects? Tell us about the fashion of tomorrow and what you think about the evolution of this industry?
Naturally, I have upcoming projects related to clothing recycling. We need to find solutions that allow us to stop burning clothes, simply because we don't know what to do with them. Still, it is difficult to find the 100% accurate solution. You can't fix the problem just like that, especially since there will always be positive and negative aspects. However, we have to keep in mind the major issue: clothing is the most polluting industry after oil, not to mention the polyester clothing made from oil. One of the possible solutions is to make polyester out of recycling materials.
I am an official partner of the Monte Carlo TV Festival and I had the chance and honor to dress the American actor Ricky Whittle, who precisely wore outfits that I produce from recycled plastic waste. He felt extremely comfortable and at ease in these clothes. He was surprised to see the quality. So what more could you ask for when you can provide more comfort and better quality?
I was also an official partner of Monte Carlo TV Festival @festivaltvmonte_carlo with my signature champagne Claudia Cherki @champagne_claudia_cherki, that I created 1 year ago with 5 cuvées, and with my must-have Blanc de Blancs with fine bubbles, no acidity and that doesn't give you a headache. A gourmet champagne for yachting, and for restaurants to bring excellence to champagne lovers. You can already taste it in the best restaurants in Monaco, such as the Rampoldi Monte Carlo or the Gaia, and in many other establishments that follow the same philosophy of prestige tasting along with taste bud delight.
– What does fashion represent for you?
For me, fashion means freedom and identity. Indeed, we know that the clothes we wear are part of our identity. That's why we've created uniforms for companies and schools that feature the school emblem. The vision of my brand Personal Made for you is to feel good all day long, because it influences our mood and our well-being. And all this, with a very pleasant material of course.
claudiasignature.com
instagram.com/personalmadeforyou
personalmadeforyou.com