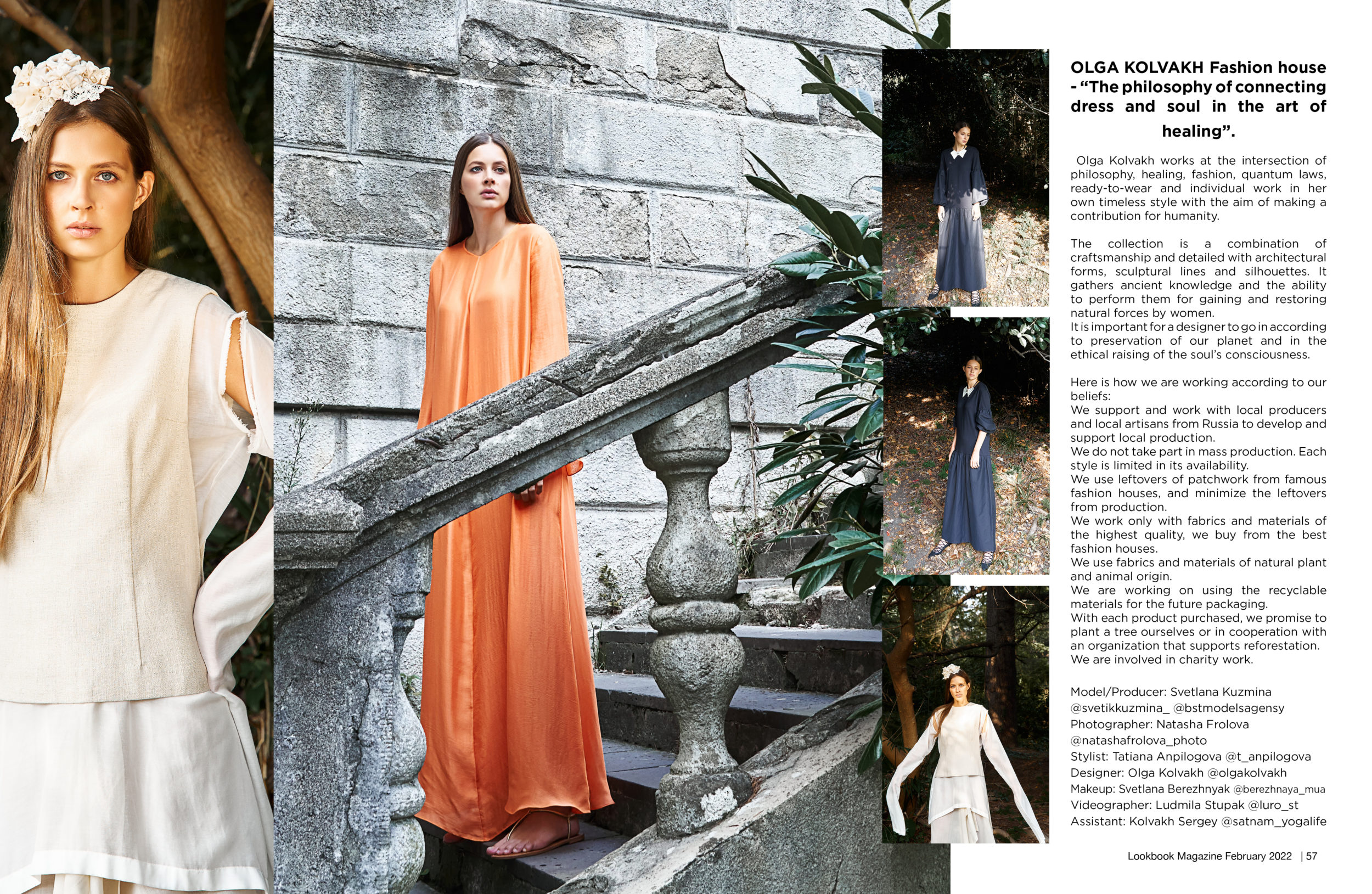 OLGA KOLVAKH Fashion house – "The philosophy of connecting dress and soul in the art of healing".
Olga Kolvakh works at the intersection of philosophy, healing, fashion, quantum laws, ready-to-wear and individual work in her own timeless style with the aim of making a contribution for humanity.
The collection is a combination of craftsmanship and detailed with architectural forms, sculptural lines and silhouettes. It gathers ancient knowledge and the ability to perform them for gaining and restoring natural forces by women.
It is important for a designer to go in according to preservation of our planet and in the ethical raising of the soul's consciousness.
Here is how we are working according to our beliefs:
We support and work with local producers and local artisans from Russia to develop and support local production.
We do not take part in mass production. Each style is limited in its availability.
We use leftovers of patchwork from famous fashion houses, and minimize the leftovers from production.
We work only with fabrics and materials of the highest quality, we buy from the best fashion houses.
We use fabrics and materials of natural plant and animal origin.
We are working on using the recyclable materials for the future packaging.
With each product purchased, we promise to plant a tree ourselves or in cooperation with an organization that supports reforestation.
We are involved in charity work.
Model/Producer: Svetlana Kuzmina
@svetikkuzmina_ @bstmodelsagensy
Photographer: Natasha Frolova
@natashafrolova_photo
Stylist: Tatiana Anpilogova @t_anpilogova
Designer: Olga Kolvakh @olgakolvakh
Makeup: Svetlana Berezhnyak @berezhnaya_mua
Videographer: Ludmila Stupak @luro_st
Assistant: Kolvakh Sergey @satnam_yogalife